BASEBALL!!!
So today I am linking up for Major League Baseball Opening Day!!
Anyone who knows me knows I LOVE baseball... Well that and all cute guys in baseball pants!!
Anyhoooo! I am a Phillies fan and up until he retired a HUGE Chad Durbin fan.. Seriously I was OBSESSED!! But since he retired I have had to move on to another player yet to be named... However I have been seriously obsessed with this guy...
In case you live under a rock or just not in the know, this is Hank.. He is the newest member of the Milwaukee Brewers. I am a HUGE animal lover and when I saw this story I immediately fell in love with this cute puppy.
He was found after he started hanging around the Brewers training camp and while attempting to locate the owners, the team and members of the brewers fell in love with him. I mean look at that face!! He was brought back to Milwaukee and is the new unofficial Mascot. He has his own jersey, he is getting a bobblehead and even did a meet a greet with part of the proceeds going to a local animal charity. He is named after Hank Aaron.
They even signed him to a contract..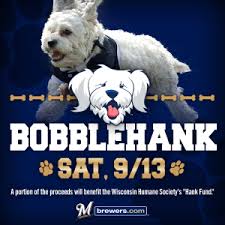 SO I think I may become a Brewers Fan this season... And I NEED this shirt..
And this one...