How is it September ALREADY!!!
Wow I can't believe that summer is almost over... Seems like yesterday it was July 4th.... Crazy.... I saw this on Amber's page and thought it was a great way to get my ass back in gear... So today starts

Get Your Shit Together September (GYSTS)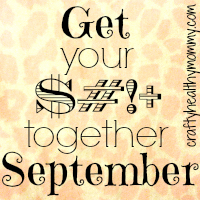 So I will be making my list and heading out to the grocery store later today.... I really hope to keep it up... So if anyone out there wants to keep me accountable PLEASE DO.... You can email me, Tweet me, FB me whatever!!! If you'd like to text me you can as well... (Email me and I send you my digits..hahaha)
We have a wedding to go to in 20 days.. I am not expecting to drop tons of weight but I'd like to see what I can do in that time.... So we shall see....
Have a great day everyone!!!