Thirsty Thursday...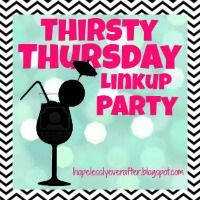 Today I am linking up with Kristen and Chelsea for Thirsty Thursday...
I am not much of a drinker (yet) but I am interested in making yummy drinks for the summer.. I came across a recipe for summer beer on pinterest and I am going to try it on the 4th.
Summer Beer Original Post http://thenestinggame.com
1 can of frozen pink lemonade concentrate (Pink is a crucial ingredient. Regular lemonade is
not
the same.)
1 empty lemonade can's worth of vodka
Pour the lemonade concentrate into the pitcher, then fill the empty lemonade can with vodka. Depending on your mood decides how strong you want.
Pop open your cold beers.
Then pour them into the pitcher. Flick out some of the extra foam and stir.
A couple of notes from the original post..
A word of warning: it goes down easy.

I have also found that it's best to add ice to the individual glasses rather than to the pitcher itself.